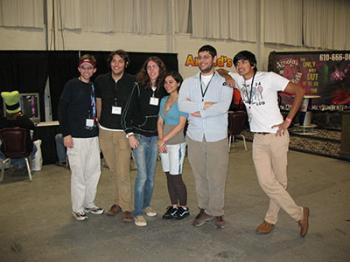 What's the recipe for creating an award-winning video game? Mix four TCNJ students and alumni, the color yellow, and a generous amount of caffeinated soda, then let the ingredients stew for approximately 48 hours.
This recipe for success helped Brian Bagdzinski '10, Mike Testen '09, Jeff Rupert '09, and Samantha McLaughlin '09, members of the team "TCNJ Yellow," capture one of two major prizes at last fall's Philly Game Jam. The event was a game-development contest held in conjunction with the GameX Industry Summit in Phoenixville, PA.
During the competition, teams of programmers and designers were challenged to create an original computer game in under 48 hours. Team TCNJ Yellow (which included two non-TCNJ members) called its creation Yellow. The game greets players with a screen covered in bare tree roots and branches. Players have to move along the trees and, using a glowing source of light, cause leaves and flowers to sprout. Players must collect enough red, yellow, and green light along the way to grow all of the plant-life in each level; however, obstacles along the way steal color from the player, adding to the challenge. The experience is reminiscent of both gardening and painting.
TCNJ Yellow's concept for the game was inspired by the contest's theme, which was a quote from author James Michener: "An age is called 'dark,' not because the light fails to shine but because people refuse to see it."
Ten teams competed in the Philly Game Jam, and prizes were awarded for Most Innovative Game and Best Adherence to Contest Theme. TCNJ Yellow won for the latter, collecting a prize package valued at $9,000.
In total, 22 students and alumni from the College took part in the Philly Game Jam. Making up the other two teams—TCNJ Red and TCNJ Blue—were seniors Anna Redding, Matt DiMatteo, Bryan Mayer, Walter Crestfield, Richard DeFrancisco, Anthony Vasta, Crystal Kan, and Vin St. John; juniors Chris Hallberg and Javas Shankar; sophomores Justin Dilks, Emily Calfo, Andrew Lohmann, Nate Chmielinski, and Richard Gebbia; freshmen Mike Murphy and Aaryn Trader; and Scott Kieffer '09.
"Participating in the Philly Game Jam was a great experience," said St. John, a senior computer science major. "The experience was about cooperating with a diverse team and working to accomplish goals on a deadline and with limited resources. That requires communication, collaboration, and a willingness to learn."