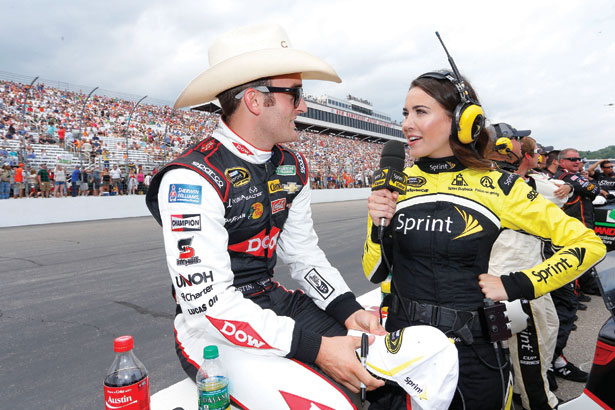 Julianna White '11, former Miss New Jersey USA, has about 1.4 million fans on social media these days as the newest Miss Sprint Cup ambassador. Her new job, after all, requires her to bring NASCAR fans behind-the-scenes photos and updates from the pits, garages and victory lanes of NASCAR's Sprint Series via social media. In fact, NASCAR calls White—and the two other Miss Sprint Cup ambassadors—NASCAR  fans' "Friend on the Inside," as she works to bring them news and interviews from the drivers themselves, having honed her reporting skills as a communications studies major at TCNJ. "It's a really exciting sport," says White. "Every weekend is like the Super Bowl." If she looks familiar to anyone who may not have known her in college, we're guessing you might be a QVC shopping addict: White previously worked as a model for the shopping network. We asked White to give us a look behind the Sprint Cup curtain.
1. Driver Kyle Larson has a dog, Joey, that was named after one of his best friends.
2. Driver Jimmie Johnson has never gotten a speeding ticket.
3. For the first time in NASCAR Sprint Cup Series history, 16 drivers will be eligible to participate in the Chase for the NASCAR Sprint Cup—NASCAR's playoffs.
4. Driver Kyle Busch proposed to wife Samantha in their motor coach kitchen while at the track.
5. NASCAR Sprint Cup stock cars do not have a gas gauge or speedometer.
6. Richard Petty has the most wins in NASCAR Sprint Cup Series history with 200.
7. Jeff Gordon is catching up with the most wins of any active driver, at 89.
8. Jimmie Johnson is the first driver to win five Sprint Cup Series Championships in a row. He won his sixth title in 2013.
9. Driver Dale Earnhardt Jr. had a replica of an old western town called Whiskey River built on his property.
10. The official NASCAR Sprint Cup Series trophy is handcrafted by Tiffany & Co. and is worth approximately $95,000. More than 80 hours alone are spent etching the checkered flag onto  the trophy.