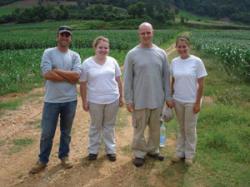 Students from TCNJ's chapter of Engineers Without Borders (EWB) traveled to Thailand this past summer as part of a multi-group effort to build houses and bring fresh water to an area beset with extreme poverty.
Biomedical engineering major Allison Weiser '08, civil engineering majors Mike Corsi '09 and Sarah Hays '09, and club adviser and Assistant Professor of Civil Engineering Michael Horst traveled to Phrao, Thailand, to survey land on which they hope to build a sustainable water-supply system.
Several EWB chapters from across the country are working on the project, which is being coordinated by the nongovernmental organization Warm Heart. Each chapter will work on one part of the project to assist in developing the community. TCNJ's contingent is responsible for designing the water-retention system, which will be quite a challenge in a region where the norm is three months of heavy rainfall followed by nine months of drought.
"This project allowed us to really tackle our own independent project even though we were part of a bigger, overall goal," said Horst, a water-resources specialist.
"Right now [the area in which we'll be working] is just a vacant piece of land, and what [we] are trying to do is have everything so that it is self-sustainable," Horst said. "Our goal is then to figure out how can we get [the villagers] a sustainable supply of water that will last all year."
During the assessment trip to Thailand last June and July, Horst, Corsi, Weiser, and Hays were able to assess their water system options by conducting a topographic survey of the eight-acre property, which is densely covered in trees, bushes, and plants.
While in Thailand, the team discussed some of their initial ideas for the water system at a meeting with local government officials, who helped the group determine which ideas would work in the region.
"That was really helpful to have," Hays said of the meeting. "Before we even left, we had an idea of whether the ideas we had would work."
Corsi, Hays, and other members of TCNJ's EWB chapter are now working on designing the water-retention system as their senior project.
The team has considered solutions such as collecting rainwater off a nearby mountain through a catch basin system, or building a well to access and store water.
"We want to create some type of system that could be replicated in other communities, because Warm Heart's hope is to start [this] community and then continue to build [more] around Thailand," Corsi said.
The team hopes to send a group of EWB students back to Thailand next summer to implement its design. It is currently seeking grants and other funding to make this happen.
More information on the status of the project can be found at www.tcnj.edu/~ewb/Projects.html.