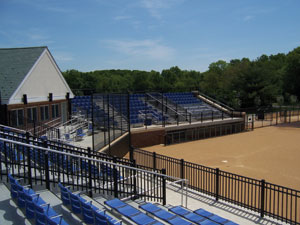 Five years ago, a small group of 
softball alumnae came together 
to honor their former coach, 
June Walker, the architect of a varsity program that drew national attention for more than two decades. The group set a goal—to raise $100,000 that would be used to provide annual support to TCNJ's softball program, and in the process result in the naming of Dr. June Walker Field in TCNJ's Softball Complex.
This past spring, the Dr. June Walker Softball Endowment Fund passed the $100,000 mark, thanks to "not one, but many, many donors," said Peter Manetas, interim vice president for 
college advancement. Nearly 200 individuals contributed to the effort over the years, including many other softball alumnae, parents of current players, Walker's former colleagues, and even her former opposing coaches. "This was a complete grassroots effort," said Manetas.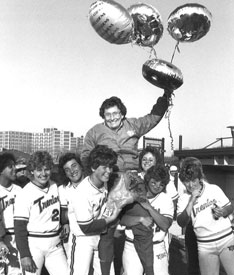 At its July 2012 meeting, TCNJ's Board of Trustees passed a resolution officially renaming TCNJ's Softball Complex's field in Walker's honor. A dedication ceremony is planned for October 20, 2012, as part of Homecoming Weekend festivities. More information on the event can be found at http://community.tcnj.edu/Homecoming2012.
The fund created by the gifts will support the program's greatest needs. The softball coach and director of athletics will meet annually to determine how to allocate the fund, and the first installment will benefit the 2013 team, said Manetas.
During Walker's 22 seasons, Lions softball teams posted a win-loss record of 721–154, highlighted by five 
NCAA (Division III) championships and the attainment of 65 All-American and 14 Academic All-American 
individual honors.