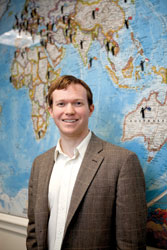 The New Jersey Studies Academic Alliance (NJSAA) named Robert McGreevey, assistant professor of history, its 2011 Teacher of the Year for his innovation and creativity in teaching New Jersey studies.
The NJSAA chose McGreevey for the award upon seeing the work of students in his 20th-Century Trenton (HIS 460) class. McGreevey led students in the class through the process of analyzing and writing essays based on archival materials held in the Trentoniana Collection of the Trenton Public Library. "In an exciting process of discovery, my students analyzed documents they found of the Trenton Committee on Unity, an organization of African-American and Jewish activists working in Trenton from the 1940s to the 1960s," McGreevey said.
McGreevey said the NJSAA award "is a recognition of the power of community-engaged learning at the College."
"Though community-engaged learning often requires a significant amount of time to coordinate and develop, experiences such as this one show how transformative it can be for students."
McGreevey received his PhD from Brandeis University, and specializes in the political, social, and cultural history of the United States from 1877 to 1945. He teaches courses on the Gilded Age and Progressive Era, America in the 20th Century, and the history of the U.S. in the world.