Pollock in a class of his own as a teacher and mentor, communication studies grads say
Several alumni explain how Professor John Pollock's unique classroom approach and mentoring have played a key role in their individual successes after graduating from TCNJ.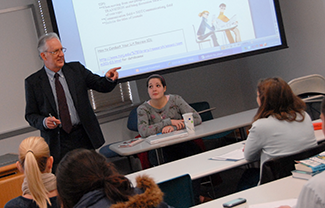 Jean Lutkenhouse Brechman '05 was the only undergraduate in the world enrolled directly into the PhD program at University of Pennsylvania's Annenberg School for Communication, which is consistently ranked as the number one overall graduate school of communication in the United States, and co-ranked number one in health communication. She received her doctorate last summer and is now a research director with an affiliate of The Gallup Organization.
While pursuing a Master of Public Affairs from George Washington University, Stefanie Gratale '06 was selected as a Presidential Management Fellow (PMF). The prestigious award (fewer than 1,000 are given out each year) is intended to steer the nation's top graduate students into upper-level federal government positions. Gratale's fellowship led to a full-time position as a management and program analyst with the Internal Revenue Service's real estate group.
Kevin Gilligan '09 received his Master of Public Administration last year from the Maxwell School of Syracuse University, which is the number one-ranked school of public affairs/public administration in the US. Like Gratale, Gilligan was selected to be part of the PMF program. He's currently working as an IT Specialist at NASA Goddard Space Flight Center.
What's the common denominator for these three alumni success stories? Each graduate credits John C. Pollock, professor and chair in the communication studies department, with playing a key role in their success.
A quick review of Pollock's curriculum vitae shows that the professor, who joined TCNJ's faculty in 1992, is a leading scholar in his field. He has published two books, written or coauthored more than 100 scholarly and professional papers, served on the editorial boards of four scholarly publications, conducted research in India and Latin America, and been awarded a Fulbright Scholarship—to name just a few of his accomplishments.
Yet what sets Pollock apart, said the communications alumni we spoke with, are his efforts as a teacher and mentor.
Creating "communication commandos" in the classroom
Brechman explained what students encounter in Pollock's upper-level communication research methods classes: "He [teaches] within the context of a very specific research paradigm—the community structure approach—which provide[s] structure to an otherwise overwhelming area (research methods). Students then [have] the freedom to apply this framework to a health/public policy issue of their choosing. We worked in groups to make the experience (a) do-able and (b) enjoyable."
Making the research and writing a collaborative process is particularly important to Pollock. "The students have to learn how to work in teams, the way it's done in the 'real world,'" he explained. Each group's final project is judged on the quality of the whole product, he said—also the way it's done in the real world.
Because of the major emphasis he places on teamwork, Pollock nicknamed his pedagogical approach the "communication commando model" of teaching. In a paper he published outlining his structured teaching method, he explained that he uses the word commando "to describe the expertise, commitment, and team solidarity I expect" from the students.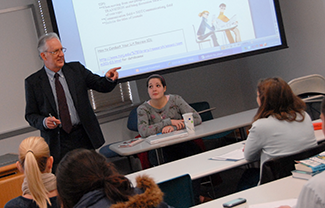 "[T]he 'commando' challenge asks students to help one another succeed collectively, to work in teams, to sacrifice for one another for overall project quality, and to hold one another to the exalted purposes expected of military commandos trained to complete their missions in short time frames, in this case, one semester," Pollock wrote.
While the language might seem a bit lofty, the results of Pollock's approach are undeniable. More than 100 of the papers written by his students have been presented at national and international conferences, while five have won the Stephen Smith Award, which is given yearly by The National Communication Association to the best co-authored student papers in the nation.
"When TCNJ students attended these…conferences, we were often the only undergraduates presenting our own research, among graduate students, accomplished faculty, policy-makers, and industry leaders," Brechman explained. "We were courted by graduate programs, complimented by scholars whose names appeared in our textbooks, and shown ways to apply our communications studies in ways we never realized were possible."
Gratale said that while Pollock expects graduate-level work from undergrads, he presents the material in a way that ensures every student has the chance to succeed—if they're willing to put in the time and effort. She explained that the structured approach she learned in Pollock's classes gave her an advantage over her counterparts in graduate school. Several times during her studies at George Washington, she found herself sharing her papers from Pollock's classes in an effort to show her fellow group members the correct way to produce a graduate-level communications research paper.
"These were intelligent people, with competitive consulting jobs, but they just didn't have that strong background that I had received from Pollock's classes," Gratale said.
Gilligan likened Pollock's "commando" approach to an enabling process. "It removes a lot of the concern for students about how to structure the paper, and…enables them to focus more on the content of paper, while at the same time learning it through experience," he said. And lest anyone think that such a structured approach to teaching would translate into an uninteresting classroom experience, Gilligan added emphatically, "The passion [Pollock] brings to the classroom is unmatched. His enthusiasm spreads throughout the class and inspires the students as a result."
A trusted mentor for life
With Pollock, the professor-student relationship extends beyond the classroom and well into your post-undergraduate years, each alum said.
Gilligan explained that he never hesitates to call on Pollock for advice, and has done so on numerous occasions. "He is always supportive and enthusiastic," Gilligan said, before adding with a laugh, "It probably doesn't hurt that I went to his alma mater for graduate school."
Gratale said that when she was selected to be part of the PMF program, "I talked with him during the process about what my different options were, he served as a reference for me, and when I was choosing a position, I talked with him about the pros and cons of each one. He gave me a lot of insight…. He's not just a mentor, he's a great asset."
Brechman added, "So much of what I learned from Dr. Pollock happened outside of the classroom. Methods class was just the beginning for so many of us—rather than teaching from a book, John challenged [us] to experience the research process for [ourselves]."
On a personal level, Brechman explained, "[Dr. Pollock] gave me one of the greatest gifts a young person can be given—he guided me toward a career path that will bring me happiness for the rest of my life." And while she is "thrilled" with the work she is doing at Gallup, Brechman said she is hoping to soon be back in the classroom, this time to teach communications courses as an adjunct. Her reason?
"I can't wait to give to students what John has given to me—an insane appreciation for communications as a discipline and the sense of peace and pride in knowing there is a place for me in it," she said.
Posted on February 28, 2011