Joseph Adamo Mussomeli '75, the recently appointed United States Ambassador to Slovenia, arrived at the US Embassy in Ljubljana in mid-November with a long list of policy objectives—chief among them, improving economic ties between the US and its Balkan ally. It had been almost two years since the US had an ambassador stationed there, and Mussomeli, previously the Ambassador to Cambodia, knew his first few months would be spent re-establishing dialogue with the country's officials. Equally as important, though, would be reaching out to Slovenia's citizens to learn more about them and their culture. "It's the people-to-people contacts…that can really make a difference on what the bilateral relationship will be," he explained prior to his departure.
But Mussomeli's agenda was put on hold in late November when thousands of confidential communications between the US Department of State and its embassies were released online and in print. The contents of the documents threatened America's diplomatic efforts around the globe, and in Slovenia, the responsibility lay with Mussomeli—just two weeks into his diplomatic tour—to assuage any feelings of distrust the event was engendering in his host country's politicians and citizenry.
From almost-expatriate to TSC student
The man who is now the "face of America" to two million Slovenians briefly forsook his native country, planning instead to live life hitchhiking through Europe. The story of why he returned to the US is also the story of how he arrived at The College of New Jersey.
As the son of a career US Army officer, Mussomeli spent much of his childhood moving throughout the country. By his teenage years, his family had settled in Cherry Hill, New Jersey, where Mussomeli attended Camden Catholic High School. During his senior year, he was suspended for taking part in a student walkout in protest of the US invasion of Cambodia in April 1970. Decades later, he would play a major role in improving diplomatic relations between the two countries.
Mussomeli attended Rutgers University after high school, but admits he never put much effort into his studies. The early 1970s were turbulent times, especially on college campuses, and he says now that world events—particularly the Vietnam War—were weighing heavily on his mind. By his sophomore year, he explains, "I was sick of the war… tired of both the pro-war people and the anti-war people. And I decided I needed to get away from it all, so basically, I just 'quit.'" He dropped out of college, worked briefly as an upholsterer to save money, and headed overseas. His intent was to spend his life roaming Europe and "never come back to America."
He might have done that, had it not been for his father, Mariano. The elder Mussomeli, who desperately wanted his son to finish college, wrote urging him to do so. Back then, the best way to send correspondence to someone traveling abroad was to write them care of an American Express office. Unsure of which city his son was in, Mariano sent letters to every American Express office in Europe. One of those letters found the younger Mussomeli in Wales, where he had been offered work as a bricklayer. The ambassador described its contents: "My father wrote, 'I just spent three days standing in line buying you books, talking to your counselor, and choosing courses for you at Trenton State College. I'd really appreciate it if you would come back and try school one more time.'" Chuckling, Mussomeli admits now: "So I never actually chose Trenton State. I didn't know much about the school, but my father spent a few days there registering me and he made me feel guilty."
Despite the circuitous route he took to the College, Mussomeli says he loved his undergraduate experience. He excelled academically and graduated summa cum laude with a degree in political science. With his love for learning reinvigorated, Mussomeli went on to earn a law degree from Rutgers in 1978. He served as a New Jersey Deputy Attorney General, and by all appearances, a successful career in law awaited him.
The accidental diplomat
While visiting a friend at the University of Pennsylvania, Mussomeli noticed an advertisement for the Foreign Service exam. "To be honest, before that I never knew about the Foreign Service or the diplomatic corps, so I hadn't really thought about it as a profession," he said. But his sojourn through Europe had whet his appetite for travel, and perhaps influenced in part by a father whose career was spent serving his country, Mussomeli decided that not only did he want to travel for a living, he "wanted to be involved in trying to make the world better."
He started with the State Department in 1980, and over the next 25 years worked his way up through the diplomatic corps. He served in various posts at home and abroad, including tours in Cairo, Egypt, as a general service officer; Manila, Philippines, as a consular officer, deputy chief of mission, and chargé d'affaires; North Korea as desk officer and senior watch officer; Colombo, Sri Lanka, as economic counselor; Rabat, Morocco, as political counselor; and Manama, Bahrain, as deputy chief of mission.
Then in 2005, he was appointed Ambassador to Cambodia. In the decades following Mussomeli's senior-year protest, Cambodia had witnessed genocide, civil war, and the spread of rampant corruption. Although America has had an on-again, off-again presence in the Southeast Asian country since the 1950s, economic, political, and military relations between the two countries were "on the rocks" at the time of his appointment, the ambassador explained.
Mussomeli helped reshape America's relationship with Cambodia. During his three-year tour, trade between the two countries was jumpstarted with the signing of a Trade and Investment Framework Agreement; military-to-military relations were re-established, and the US Navy conducted its first ship visit to Cambodian waters since the Mayaguez incident in 1975; the first-ever contingent of Peace Corps volunteers arrived in the country; Congress resumed direct aid to Cambodia after a 10-year hiatus; progress was made in reducing human trafficking in Cambodia; and the US opened its first permanent embassy there. In recognition of his accomplishments, Mussomeli received the 2008 Presidential Distinguished Service Award for "sustained extraordinary accomplishment" in furthering the bilateral relationship between the two countries.
The ambassador says he was "mesmerized" by the landscape, culture, and people of Cambodia, adding that the country will "always hold a special place in my heart and thoughts." Yet despite his successes there, he is well aware that there is still much progress to be made in the country he came to consider a second home. As he remarked to State Department officials last July, "Cambodia is still far from the ideal place we would all hope for: it is not yet a place of true justice and peace and prosperity, with a society truly focused on bettering the lives of its people and in stamping out corruption—but when you look where Cambodia once was and where it is now, it is stunning how much has improved."
After Cambodia, Mussomeli returned to Washington, DC, for one year before being named Assistant Chief of Mission in Kabul, Afghanistan. His tour there overlapped with the country's fall 2009 presidential elections, a process that even the ambassador concedes was far from perfect. The elections were marred by violence, and news reports from the time alleged widespread voter fraud. But Mussomeli says it is important to keep the situation in perspective when judging the success of the election. "You have to remember that there is a war going on, and many of the people living there are illiterate and poor," he explained. "I've seen elections in Cambodia, the Philippines, Morocco, Bahrain, and Colombo, Sri Lanka. Frankly, given that sort of context, I didn't think the [Afghan] election process was that bad."
Afghanistan was a difficult assignment, Mussomeli said. Being confined to the embassy and living under constant threat of bombings took its toll, and after one year there he was more than happy to return home to his wife, Sharon Flack Mussomeli, a retired Foreign Service officer, and their adopted six-year-old son, Thomas. (The couple also has a 24-year-old daughter, Alexis, and 26-year-old son, Isaac.) However, it wasn't long before the career diplomat set out on his next tour, one that brought with it a new set of challenges.
Our man in Slovenia
"Until now, my 30 years in the Foreign Service have invariably involved serving in the developing world," Mussomeli told the Senate Foreign Relations Committee that, last August, was reviewing his nomination to his current post. Slovenia, he continued, is "a reliable ally with an open economy and strong democratic institutions. It will be a new experience."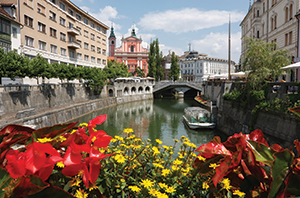 The WikiLeaks release, which occurred two weeks into his current tour, made the experience more different than he imagined. The leaked documents alleged, among other things, that US Embassy staff had spied on the Slovenian politicians (prior to Mussomeli's arrival) and that the Slovenian prime minister sought a meeting with President Obama in return for accepting a Guantanamo inmate into the country. Mussomeli's policy agenda was put on hold while he worked to ensure US–Slovenian relations were not irreparably harmed. He told news agencies that there was never a deal to move Guantanamo prisoners to Slovenia, and assured TV Slovenia that the allegations of spying were untrue. "Diplomats don't spy. This would be totally inappropriate," he said.
With the episode behind him, at least for now, Mussomeli is back at work on the "primary goals" he outlined prior to leaving for his post in the Slavic country. He is working to improve economic ties between the US and Slovenia, two countries that have "a very good political relationship…but very little in the way of economic and commercial relations," he said. "A large part of what we will focus on in the next few years will be to develop more investment and more trade between the two countries."
Mussomeli is also working to ensure the Slovenian military remains committed to the war in Afghanistan. "It will be very important, especially since many of our European allies are equivocating, to work with the Slovenians to keep them as part of the alliance," he said.
The ambassador is also closely monitoring Slovenia's relationship with its Balkan neighbors, particularly Croatia. "We want to make sure that [existing] border tensions here…are resolved in a peaceful, equitable way, and as much as we can, help to influence those things," he said.
And, much to his pleasure, Mussomeli is getting the opportunity to begin meeting with Slovenian citizens: he recently visited the historic Gorica region, and earlier met with students from the University of Ljubljana. "I'm supposed to be the 'face of America,' so a lot of my work beyond the broad policy agendas and directives has to do with public relations," Mussomeli said. After all, it's those person-to-person interactions that can ultimately make for successful diplomacy.