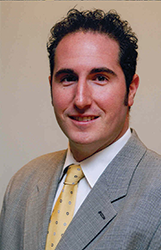 A student majoring in special education at The College of New Jersey will benefit from a new scholarship funded with a gift from alumnus Jeremy Neuer of Whippany, and his wife, Christine. Named in memory and honor of Neuer's aunt, the Lori B. Levine Scholarship was established on June 30 and will be awarded to  an incoming freshman enrolled full-time in the special education program at TCNJ.
Neuer earned a bachelor's degree in business administration from TCNJ in 1996. Today, he serves as an office broker for commercial real estate firm Cushman & Wakefield, Inc. He recently was promoted to the position of senior director in the company's Edison office, and works with such high-profile clients as ADP, AIG and Time Inc., among others.
"I got a lot out of my time at TCNJ, and I wanted to give something back—even if it represents just a fraction of the value I gained from my college experience," Neuer said. "My aunt was a special education teacher and administrator. She made an incredible impact on countless students in her career, which was far too short. We hope that the Lori B. Levine Scholarship will help others make similar contributions in this field."
The College will award the scholarship based on both financial need and academic promise in special education, and it will be renewable annually. The nominee will be eligible to receive the scholarship for up to five years (the length of time a student needs to earn both an undergraduate and graduate degree in special education at TCNJ, which leads to formal certification in the field of education). The Lori B. Levine Scholarship is an open fund, meaning that Neuer or anyone else can add additional funds for the purpose of continuing the mission.
Neuer, at age 36, has already established a personal tradition of philanthropy and, in addition to his TCNJ involvement, is active in a number of community organizations. These include the NephCure Foundation, the only group solely committed to seeking a cause and cure for FSGS, a disease that attacks the kidney's filtering system. In June, Neuer received the 2010 Sportsmanship Award from Jeremy's Heroes (named for Jeremy Glick, a United Flight 93 passenger on 9/11) for his efforts to give back.