William Henry Hurlbert's lengthy career as a newspaper writer and author was not iconic enough to rise above the history-making brutality of the Civil War and the crowded New York publishing scene. But with the release of history professor Daniel W. Crofts' A Secession Crisis Enigma: William Henry Hurlbert and "The Diary of a Public Man," Hurlbert (1827–1895) has been granted a posthumous and historic credit: author of the aforementioned "Diary," a significant and controversial piece of Civil War literature.
Finding the forgotten writer required years of high-tech analysis and old-fashioned library legwork. Luckily for Crofts he had two history lovers—one, a student; the other, a statistician—to help crack a mystery that had remained unsolved since 1879.
Rounding up suspects
Crofts initially encountered "The Diary of a Public Man" while researching his first book, Reluctant Confederates: Upper South Unionists in the Secession Crisis, in the mid-1970s. Crofts, a Civil War expert, was intrigued by the document, which offered a behind-the-scenes look at Abraham Lincoln's presidency in the weeks before the war. The professor loved what the "Diary" captured: political maneuvering, memorable scenes (notably Stephen A. Douglas holding Lincoln's hat during his inaugural speech), and a human portrayal of the now-venerable "Honest Abe."
The "Diary," which ran in four installments in The North American Review during 1879, had its doubters though—Crofts included, who wound up not using it in his research for Reluctant Confederates.
Another noted historian who questioned its authenticity was Frank Maloy Anderson. In 1948, he declared Sam Ward—a lobbyist and failed poet/writer—as the author of the "Diary," but said researchers should avoid using the document as a legitimate source.
"The irony, of course," says Crofts, "is that people keep using it right through Doris Kearns Goodwin [author of 2006's best seller Team of Rivals]."
Crofts calls the "Diary" "seductive," adding, "You have fascinating information which has turned out to be corroborated by material subsequently discovered [and] a diarist who vanishes into the ether like Alice's Cheshire cat."
It wasn't until 2001, when TCNJ history student Ryan Christiansen '02 re-examined the "Diary" as part of his senior thesis, that Crofts began his search for an author. To hear Crofts tell it, Christiansen got the ball rolling on the project. Christiansen respectfully disagrees, saying that Crofts suggested the "Diary" and "I ran with the idea."
Christiansen's role was to collect source material of possible "Diary" authors—including Hurlbert, who is mentioned briefly in Anderson's book, The Mystery of a "Public Man": A Historical Detective Story. Crofts and his TCNJ colleague, David Holmes, professor of mathematics and statistics, would then examine the samples to determine if any matched the writing style of the "Diary."
Christiansen was the first to see a connection between the writing style of Hurlbert, an editorial writer for The New York Times and later an editor with The New York World, and the diarist. "I think I got your guy," he told Crofts during the 2001 fall semester. It didn't take long for Crofts to agree.
"Somebody who writes will quickly notice that Sam Ward [whom Anderson had pegged as the author] doesn't write like the diarist," Crofts says, "and as you learn about Hurlbert and read his stuff—which is voluminous—the diarist writes likes Hurlbert." Specifically, both rely on alliteration and feature the same frequently used words, such as "earnestly," "deplorable," and "assurances."
Building a case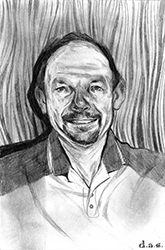 The "Diary" wasn't the first Civil War-era mystery that Holmes, a self-described "history buff," had investigated. He had used stylometry, the statistical analysis of literary style, to firmly conclude that letters long attributed to Confederate General George Pickett were actually written by Pickett's wife after the general's death.
The entire Pickett Letters Project lasted three years. Holmes' first attempt to statistically confirm Christiansen and Crofts' theory of "The Diary of a Public Man" via discriminant analysis took several years. Christiansen and a team of statistics majors had to collect a large body of written material that had to be scanned or typed into machine-readable form. Multivariate statistical analyses then had to be validated by texts from known writers during Hurlbert's era before examining the actual "Diary."
In other words, says Holmes, "You can't look at the unknown until you are satisfied everything works on the known." From 2001 to 2005, he and his research associates examined the works of 10 candidates—including long shots for the purpose of test runs—before coming down to Ward and Hurlbert.
Holmes says it's best to view discriminant analysis as a form of categorization. "There's a Ward box and a Hurlbert box, and they are known to be of different styles," Holmes explains. "You take the 'Diary' and the technique tells you which of these boxes it falls into." When asked if the styles of the "Diary" and Hurlbert matched (or, to extend the analogy, fit) Holmes answers, "Emphatically."
Not long after these promising results, the Delta technique hit the scene. According to Holmes, this technique computes measures of "closeness" between texts using large numbers of non-contextual function words—for example, but, to, and from. Collectively, Crofts says, those words create "the statistical fingerprint of the writer." Holmes spent part of his 2009 sabbatical using the Delta technique to explore his earlier findings. Again, there was no debate that the "Diary" had one author.
"Hurlbert was closer to the 'Diary" than anyone," Holmes says.
Hurlbert "had connections and could write well…[but] wasn't a mover and shaker in a time of movers and shakers," Christiansen explained. "Frankly, this is the reason he got away with it for so long."
By the time Holmes performed his second round of statistical detective work, Crofts had made his own discoveries about the "Diary" and its almost-anonymous author. Christiansen's thesis was turning into something bigger. "It's not often that undergraduate projects lead somewhere important," Crofts says. "This is a striking exception to that pattern."
The "eureka moment"
Authorship of the "Diary" was firmly established, but there was still concern. "Until 2005, I was still uncertain of what we had here," says Crofts, who started research in 2002 and began writing A Secession Crisis Enigma in fall 2005. "It was obvious that parts of the 'Diary' rang true. They are based on information that could simply not have been dreamed up or imagined. Time and time again, the stuff in the 'Diary' is validated or corroborated by subsequent research."
Still, the history professor kept asking himself, "How does the guy know this stuff?"
Crofts' "eureka moment" came after reviewing Anderson's research at the Library of Congress in August 2005. The information in the "Diary" was real, Crofts discerned, but the diary and the diarist were literary devices. Hurlbert had constructed the "Diary" based on events that actually happened.
"Once I realized that," Crofts says, "everything fit." Hurlbert, a New Yorker, couldn't have been everywhere he claimed to be in the "Diary," or have had such access to so many important people. He must have had an inside source, and the evidence pointed to one person: Sam Ward.
Ward not only lived in Washington, DC, he had a close relationship with one of the key figures in the "Diary," Senator William H. Seward, Ward's next-door neighbor. Also, Ward and Hurlbert were inseparable friends. One of Ward's obituaries detailed how the two "used to understand one another perfectly. They lived in a world of their own, very agreeable and slightly out of the world."
There's no "smoking gun" regarding this theory—specifically, a letter written by Hurlbert or Ward mentioning the "Diary" project—just a lot of common sense. "The kind of classic evidence that historians like only takes you so far," Crofts says. In reviewing the correspondence between Ward and Hurlbert, Crofts thought the term "obelisk" might be a code word for the "Diary." It wasn't. Crofts discovered that Hurlbert led a successful campaign to get New York City an Egyptian obelisk; it has stood in Central Park since 1881.
Hurlbert's reputation as a blazing literary talent was established long before then. He was a genius with a flair for storytelling. As Crofts details in his book, Hurlbert was the chief editorial writer for The New York Times by age 30 and was later editor-in-chief of The New York World. He had a knack for languages, and was knowledgeable in drama, history, and literature. He was a familiar figure in literary circles, so much so that he was the basis for characters in three novels. Aside from importing obelisks and editing a major newspaper, Hurlbert wrote two books on Ireland and France.
Those lofty accomplishments came with a sad undercurrent. Never a classic newspaperman, Hurlbert's stint editing The New York World was a flop, and not every fictional tribute was complimentary. Hurlbert was disdained in some New York social circles and openly pursued what was best for him, Crofts writes. That extended to his dealings with women, who flocked to the handsome raconteur only to find themselves repeatedly duped.
It all caught up to Hurlbert, Crofts writes in A Secession Crisis Enigma: "An apparent compulsion to live by his own rules clouded his last years with scandal, so that he died in exile, a fugitive from the law."
Case closed
Thanks to Crofts, Holmes, and Christiansen reintroducing Hurlbert to the world, it appears the debate regarding authorship of the "Diary" is over. Holmes would be "very surprised" if someone revealed contrary evidence. "I'm very confident that it's settled," he adds.
Christiansen, now a Pittsburgh-based district manager for an automobile company, feels that someone will take issue with the author's identity and the concept of a fake "Diary." "They're still arguing the true intentions of people from Egyptian times and the Middle Ages," he says. "That's part of what makes grad school and undergrad so entertaining, because you get to go back and interpret the question. It'll be done again in another 40 years, another 100 years. No one is ever satisfied by what we currently have. The profession is based upon reinterpretations."
It's a valid point. Crofts and Christiansen did challenge Anderson's conclusion, then employed Holmes and his statistical analysis as a closing argument. But with all that done, Crofts now considers the case closed.
"There are two things working along parallel tracks here: The sort of common sense analysis of people who look for things like writing style and this quite interesting statistical procedure that Holmes uses," Crofts says. "And they both lead us, ultimately, to the same place."
Illustrations (c) Danny Schwartz