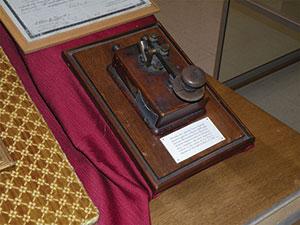 From 1919 to 1970, David Sarnoff pioneered American commercial radio and television, founded the National Broadcasting Company (NBC), and led the Radio Corporation of America (RCA). Now a portion of his historic legacy will continue to educate and inspire at TCNJ.
In 2009, the museum named for Sarnoff's historical treasures and technological innovations was required to vacate its space at the former RCA headquarters in West Windsor and find a new home. John Pollock, professor and chair of the Department of Communication Studies, caught up with his former classmate Rosita Sarnoff, David Sarnoff's granddaughter, at an alumni event at their alma mater and the rest is history—literally.
The considerable collection will be housed in the 1968 wing of Roscoe West Hall. Outfitting of the space will be completed in late spring, and a grand opening will take place then. (More information about that event will be forthcoming.) The collection includes an archive of notebooks that record product development and marketing at RCA and Sarnoff Corporation, as well as artifacts like a wind-up Victrola record player, early televisions, liquid crystal displays, and an electron microscope. Additionally, it includes framed photos signed to Sarnoff from Thomas Edison and Arturo Toscanini, among others.
"In the context of New Jersey as a 20th-century incubator of ideas and innovation coupled with a strong education infrastructure, I believe it is a natural fit for this collection to find a home on TCNJ's campus," said John Marcy, vice president for college advancement. He noted that the Sarnoff collection relates to nearly every area of the curriculum at the College—particularly the communication studies department, one of the top programs of its kind in the country.
TCNJ's communications studies students hold the national records for the largest numbers of elected officers of Lambda Pi Eta, the national honor society, and the largest number of prizes for "best co-authored student paper in the nation," including the prizes for four out of the past five years, Pollock said. TCNJ communications students regularly move on to the best graduate schools in the country, and department faculty have been published in the top journals in the field.