John Karsnitz, longtime chair and professor of tech studies, retires
John Karsnitz, the longtime chair and professor of technological studies at TCNJ, retired in December 2012. A scholarship fund has been established to honor the visionary educator.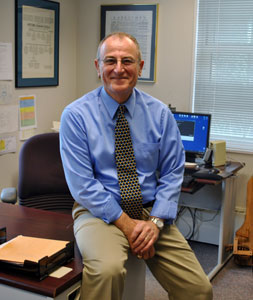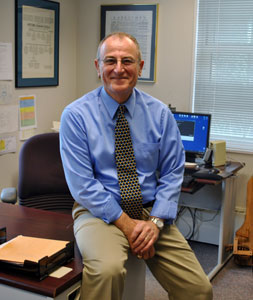 In 1913, Thomas Edison said, "Books will soon be obsolete in the public schools. Scholars will be instructed through the eye."
That bold statement intrigued people in the early 20th century, as a school without textbooks appeared dubious and unimaginable. While the prediction may not yet be fully realized, few living in this era of laptops and tablets would dispute that classrooms have come a long way in a short time.
The College, in its history as a teacher training institution, planted early roots in technological studies with aspects of the field first implemented in the late 19th century, when the U.S. transitioned from an agrarian society to an industrial economy. The offerings evolved to the current Department of Technological Studies and the Science, Technology, Engineering and Math (STEM) program, which longtime professor John Karsnitz was integral in developing.
Karsnitz, who taught at the College for 35 years and chaired the technological studies department for 25 years, retired in December 2012, but his legacy of preparing teachers to be on the cutting-edge of technology will continue.
"John Karsnitz is a man of faith and principle who brings a student-centered approach to all that he does," says School of Engineering Dean Steven Schreiner, who worked closely with Karsnitz for many years. "Over his 35-year career, he has made a lasting impact on the technological studies department and the College."
Karnitz has enthused and educated thousands of aspiring teachers by equipping them with the knowledge and vital skill set to effectively adapt to changing technology and implement the latest educational tools in our schools.
"When your field of study is the [ever-changing] human design world…you are constantly challenged to learn new things and change the way you are teaching and… preparing teachers," said Karsnitz. "It is a very exciting field to be in."
In addition to the technological studies program, Karsnitz helped found TCNJ's Center for Excellence in STEM Education, which brings together a multidisciplinary team of educators, researchers, and practitioners. Through this integrated program several professors from the College's Schools of Science, Education, and Engineering use inquiry and design as the major approach in teaching students from pre-kindergarten through grade 16 and beyond.
Karsnitz is recognized as a national leader in technological studies and has presented his work at conferences on the local, state and national levels. He has also had a major impact on the profession through his five textbooks. His most recent publication, Engineering Design: An Introduction, second edition (2013) was co-authored with Steve O'Brien and John Hutchinson, colleagues at the College.
As adviser of the College's Technology Education Society (TES), Karsnitz and members of the club were nationally recognized this year at the Technology and Engineering Education Collegiate Association (TEECA) Awards Conference in Columbus, OH. Karsnitz was awarded the TEECA Distinguished Adviser Award and the College's TES chapter received the national Chapter Excellence Award.
Karsnitz's influence at the College extends beyond technology education. During his tenure, Karsnitz served as the college-wide elected faculty representative to the Board of Trustees (2001–05) and member of the Faculty Senate Executive Board (2001–11). He worked with President R. Barbara Gitenstein and former Provost Stephen R. Briggs to develop a new campus governance system, which received national recognition by the American Association of University Professors in 2006.
The contributions of Karsnitz have kept the College ahead of the curve in reshaping the education process, according to colleagues.
"His work in pre-engineering K–12 education was visionary, as he led the creation of innovative pre-service teacher education programs, most notably the Math/Science/Technology (M/S/T) major for elementary education," says Schreiner.
Karsnitz's wife, Suzanne, has also been a highly visible and active participant in the technological studies department and the College. She was a school media specialist for 30 years and recently retired from Hamilton Township after founding the library at Crockett Middle School, moving the school into the age of computerization. Suzanne has also served as John's research assistant in his textbook writing career.
The John and Suzanne Karsnitz Scholarship Fund honors the couple's commitment to teacher education at the College. It will provide scholarships for students in TCNJ's Department of Technological Studies. Selection will be made on a competitive basis to a junior level (senior level at the time he/she receives the scholarship) applicant majoring in technological/pre-engineering education based on his or her commitment to teaching, leadership, creativity, and high scholarship. Donations to the fund can be made at: https://community.tcnj.edu/Karsnitz.
Through this scholarship fund, Karsnitz's work will resound long after his retirement and his footprints will continue to lead the College through the Information Age for years to come.
In retirement, Karsnitz plans to focus on writing, designing and creating things, especially arts and crafts inspired items. He also looks forward to spending more time with his wife and their children and grandchildren, singing bass in his church choir, skiing with his son and grandson, and playing golf and tennis.
Editor's note: The photos below, which are posted on the School of Engineering's online photo gallery, are from the school's annual spring celebration.