Aromando siblings in a Hall class by themselves
In the College's rich athletic tradition, Donna '83 and John '86 Aromando are the only siblings in TCNJ's Athletics Hall of Fame.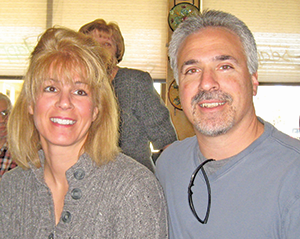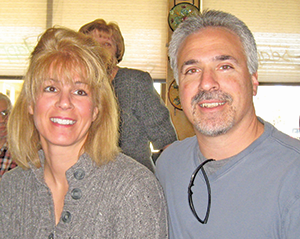 On the day John Aromando '86 was inducted into TCNJ's Athletic Hall of Fame in 1998, he and his older sister Donna '83, already a member of the Hall as a field hockey standout, came upon a plaque in Paul Loser Hall, where the ceremony was held.
The plaque commemorates the area in which midfield once stood at old Earl H. Dean Field, where John roamed freely in the early 1980s as an All-American wide receiver for the football team. In a lighthearted moment, Donna snapped a photograph of John next to the plaque.
Just as the plaque will stand the test of time, the Aromandos have done the same in TCNJ's Hall of Fame. In the College's rich athletic tradition, they are the only siblings to share that distinction.
Neither knew about it until this spring. "It was a little bit of a shock to realize that she and I are the only two siblings," John says. "It's pretty special."
So were their careers in Lions uniforms.
They arrived at the College during a time when the campus hardly resembled what it has become today. Athletics were starting to boom, especially among the women.
You could say the Aromandos had already played some of their toughest games as two of the five children whom their parents, Joe Jr. and Concetta, raised on an eight-acre farm in Medford, New Jersey.  "We played marathon sports games," Donna recalls. "We would go from football to basketball to baseball, whatever it was, you were just playing, playing, playing sports."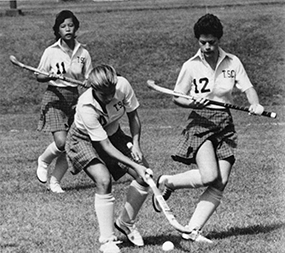 Donna's main sport was softball, but she decided to play for coach Melissa Magee's field hockey program. She was so aggressive on the forward line that she was nicknamed "The Animal."
Women's college sports converted from NAIA to NCAA championships in 1981, and the timing was perfect for the Lions' level of play to reach a new height. They finished 20-0 and won the first NCAA Division III title with a 2-0 victory over Franklin & Marshall in the championship game.
The Lions didn't lose again in Donna's senior season of 1982 until Ithaca stopped them on penalty strokes in the national final. She was named an All-American and the Division III Player of the Year, graduating with school records for goals in a season (27), points in a season (69), career goals (52), career assists (34) and career points (138). Those marks were later surpassed, but she remains tied for the season assists record (19).
"Athletically (winning the national title), that's the pinnacle, but I had so much fun in so many other things," says Donna, 49, who entered the Hall of Fame in 1994. A special education major while at the College, she is a guidance counselor at Rancocas Valley High School, not far from her home in Lumberton, New Jersey.
"If you go back and look at the records of softball, basketball, soccer, all those sports really kind of came to age through the '80s and then just consistently through the '90s. I think TSC was put on the map because of athletics."
While Donna still laughs that her style of play was to run over opposing defenders, John was all about finesse on the football field. He joined the program in 1981 as a defensive back, but head coach Eric Hamilton '75 switched him to wide receiver. It didn't take John long to be dominant, already instilled with a family philosophy that "if you're going to go do it, do it right and win."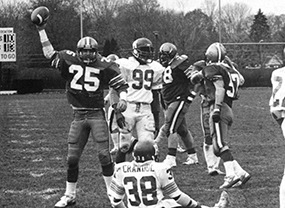 His roommates often gave the economics and finance major different nicknames that were drawn off the many headlines he garnered during his career. "Moneyman" seemed to stick like the passes did while he set 13 school records and four NCAA marks, and earned College Division Player of the Year honors. As a sophomore in 1982, he set Lions season records, which still stand, for receptions (64), receiving yards (1,090), touchdown receptions (20), and points (120). He also holds career marks for receptions (165), receiving yards (3,197), touchdown receptions (39), total TDs (39), and points (236).
John opened the 1983 season with a school-record five touchdowns against Upsala and closed it with four more as the Lions beat Ramapo for a share of the conference title. The two wins highlight his memories.
"You just work harder and harder and harder to do better and better and better," he says. "I never wanted to go a step backward. I always wanted to have a better year than the year before."
John, 48, who lives in Lumberton, New Jersey, and co-owns a financial services firm, was followed into the footballprogram by the youngest Aromando sibling, Andrew '91. Joe Jr. '76 and Joe III '81 also are graduates of the College.
"It was always a family thing," Donna says.
The TCNJ Athletic Hall of Fame confirms it.