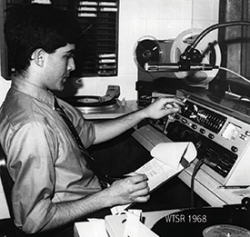 Since its early echoes in '50s dorm rooms, when it broadcast on the AM band under the call letters WTSC, the campus radio station has been a catchall for the College's creative and charismatic.
The station, which today broadcasts on air at 91.3 FM and online, 24/7, from the Kendall Hall basement, has hosted a long line of DJs, directors, writers, technicians and musicians. Every wave of radioheads has brought new innovations, and the station has come a long way from its homemade, AM-radio roots.
John Anastasio '69, a former DJ, was there for WTSR's launch to FM in 1966. He said that first, 10-watt transmitter in Armstrong Hall had "less power than your average light bulb," but he remembered that the five-mile broadcast radius was quite exciting at the time. He and his colleagues were thrilled when they went for a ride on Rt. 31 and tuned into WTSR for the first time on car radio.
Anastasio became a key station member, running classical and talk programs, taking a sledgehammer to Kendall toilets when the station moved into an old men's room, and joining with other DJs to create a defiantly independent vibe that has survived for over three decades.
"It was college radio to the point of being so eclectic and esoteric that it just had to be interesting," he said.
The "anything goes" broadcasting, which might have leapt from jazz to Elvis to some obscure jug-band tune, was largely attuned to the revolutionary feeling of the era, he explained.
"We could do stuff that the commercial broadcasters wouldn't dream of doing," he said. "It was kind of like the FM version of YouTube … there was a little bit of this, a little bit of that."
Even after the '60s, many DJs continued to fight the good fight against commercial radio.
Tom Kelley '97 has pushed the station's musical boundaries as much as anyone—as a night DJ in the '90s, he ran a three-hour experimental block that mixed avant-gardes and obscurities. Today, he is part of a big team of community volunteers—alumni and locals whose love for radio brings them back to the station every week. His Tuesday night show, "Transmission Control," draws from the relative unknown of electronic alternative, which he calls "a niche of a niche of a niche."
His show and others like it are the embodiment of the station's catch-phrase: "Open Your Mind."
Exposing people to unfamiliar music is his forte: "(This music is) completely off the radar, so how are they going to know about it? I put two and two together and realized, people will like this when they hear it, they just don't know it exists."
Randy "Now" Ellis, a long-time community voice, says college radio is a "never-ending battle" against mainstream complacency. He's aired over 100 on-air interviews since the '70s, including talks with Dead Kennedys frontman Jello Biafra and songwriter Stan Ridgeway, and he's done his part to diversify the station.
"I refuse to play 'the hits,'" he said. "I don't want to play the same song every three hours."
Other volunteers, of course, are there simply because of the feeling they get when they go on air.
"When I get there, I get all this energy," said Claudette Bailey '90, who grew up in Jamaica and uses her time slot to spotlight authentic Caribbean reggae.
Joe Accardi '76 has been spinning tunes from the "golden age" of rock n' roll since he was a student. "It's like a vitamin and a drug for me," he said. "It sort of rejuvenates me, you know, turn a mic on and actually speak to an audience out there about music that I've loved all my life."
Accardi fondly recalled the various charities and phone-a-thons WTSR orchestrated back in the day for groups like March of Dimes, Greenhouse, and Trenton Area Soup Kitchen. That giving spirit hasn't left the station—last year, for example, it raised $2,000 for cancer research at its "Laugh in the Face of Cancer" comedy show.
In this and other ways, the station is responsible for a lot more than the music it plays. With several news and sports programs and scores of opportunities for interested students, WTSR is one of TCNJ's greatest career training assets.
Chris Kubak '08, a former director of music and production, said the station is "the best balance of fun and professionalism."
"TSR is one of a kind … there's no other station anywhere in our broadcasting radius that even compares," he said.
"I can't tell you how many times a DJ has told me that they've conquered their fear of public speaking or were able to learn time management skills through being a DJ," Melissa Virzi '12, the current station manager, said. "WTSR is essentially a small business, and has opportunities for every major to learn something or participate in some way."
Even as the technology advances, CDs go the way of vinyl, and radio takes to the Web, WTSR alum are sticking with it. Volunteers like Accardi, Bailey, Ellis, and Kelley say they're not going anywhere. Anastasio, who won several awards in broadcasting and now teaches it to high-school students, thanks the station for setting his course.
The consensus: there will always be a place at TCNJ for WTSR.
In Kubak's words, "The basement is one of those things that kind of represents the heart and soul of the College."